30 Mar 2022
3 Unforgettable quotes from Day 1 of SMB Digital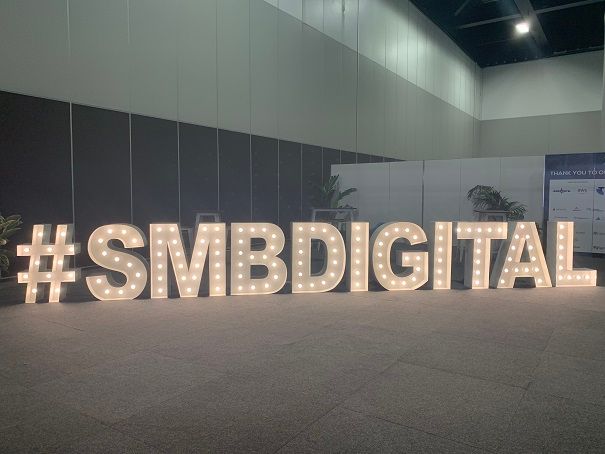 It was always going to be a memorable occasion for a number of reasons. Not least because it was the first time many of those attending SMB Digital could engage in person again with innovators and experts and peers in a conference and exhibition environment.
There are too many highlights of Day 1 of SMB Digital to list but here are some top picks from the conference speakers that came to help small and medium business leaders succeed like never before in the coming years and months.
Think like a fighter pilot and be the best of the best
"Remember you have 188 cognitive biases shaping every decision you make! Deep Performers understand this, that sometimes we make the wrong decisions. That's Ok though! Because we're all human. By thinking in circles, we always reflect on our decisions and the impact they make, refining them over time, gradually making better decisions and a bigger impact!
The most powerful decision you'll ever make is to commit to a debrief every day. It's the only moment in time we can connect where we've just been, to where we want to be tomorrow."
- Keynote, Christian "Boo" Boucousis
Invest in R&D to outperform your peers
"Studies consistently find that businesses investing in R&D outperform their peers who don't. Despite this, Australian business investment in R&D is poor compared to other developed nations. Why?
If you could invest in a mechanism that would see your business outperform and outlive your competitors, would you pursue it?
Participating in innovation is itself an opportunity and a strategy for growth, but it must be balanced against risks to ongoing business activity."
- Tamara Ogilvie, Innovation Connections Facilitator - Entrepreneurs' Programme, CSIRO
Work about Work (WaW) is the biggest threat to productivity. You need to reduce it to achieve company goals faster.
"Two years ago, the onset of COVID-19 changed the world—and the way we work along with it. While the emergence of remote and hybrid working models have provided greater flexibility, work about work remains a persistent threat to organisational agility.
"To thrive in this new era of work, organisations had to embrace a culture of change and introduce new processes and tools to increase visibility and agility. While it's a journey most companies are still on, we have seen a lot of progress already, and overall have leap-frogged work-related innovation by about 5 years."
- Robbie Goldberg, Corporate Sales Manager, Asana
STAY TUNED. WE HAVE ONE MORE FULL DAY OF SMB DIGITAL AT ICC, SYDNEY STILL TO COME.
It's not too late to get tickets to Day 2 (they're free!).