07 Oct 2020
Award-winning Aussie entrepreneur shares 6 steps to scaling your business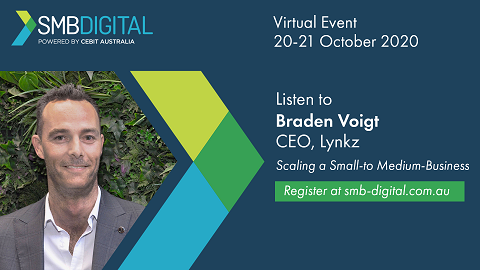 Despite being one of this country's younger entrepreneurs, Braden Voigt is fast becoming one of the most respected and successful business pioneers with a reputation for innovation and excellence. He is the CEO and founder of software development company Lynkz, as well as managing director and co-founder of SMT Camera, an AI-enabled camera software as a service (SaaS).
This article also appears on retailbiz
A Brisbane-based visionary, Braden has earned various accolades including Top 100 Entrepreneur's in Australia for five years running, Young Entrepreneur of the Year – Technology; Start Up of the Year – Merit Award; Top 20 Most Innovative Companies in Australia; and Coolest Company – Start Up.
Ahead of his much-anticipated talk in October at SMB Digital – the only virtual event of its kind in Australia for SMB professionals looking to step up growth using technology – Braden shares some of the secrets behind his success.
1. Never stop learning
"A lot of nights I'll spend time watching YouTube videos and learning different things. I choose a topic every week, watch something new – it could be on rockets or anything – and I'll try and learn it. It's opened up my way of thinking about different challenges and different ways of doing things."
2. Be transparent with your staff and treat them well
"We have really high staff retention. I put this down to the culture. The way that we engage with our staff is very open and transparent. We have our fortnightly calls with all our staff. We share the deals we close, the value of these deals.
"We also put a lot of effort into our end of year gathering and include partners and families because if you're going to complain about anything about the workplace you're going to complain to your partner. We feel if we clue them in on what's going on, those times employees may be dealing with project timeline pressure everyone is a little bit more accepting. Everyone knows they're being looked after, you're not treated as a number."
3. Invest in marketing – especially in the tough times
"We added more marketing people recently. In a time like this, when I hear people say they're not investing in marketing right now, they're crazy. Especially now, the only way to be in front of someone – especially competitors – is to have a marketing department that's talking about your brand, so it's remembered. Emerging from COVID where there are so many organisations going under, it's the ones that people are familiar with that are going to get work. Get creative and try things that will make you stand out."
4. Small businesses are in a great position to take risks
"One of things that defines an entrepreneur is risk taking, sometimes it will pay off and sometimes you'll fail and that's ok if you learn from it. A lot of businesses won't do that – especially listed companies where everything is calculated to the nth degree – and they can miss out because they take so long to do anything that half their competitors are probably already doing. A small business like ours can be innovative and we can try something and if it doesn't work, fail fast. Then shut it down and move on to something else. If you're going to get bigger you are going to have to take risks."
5. Don't micro-manage
"Entrepreneurs who fail are those who use their time to work in the business rather than on the business. You need to have a reliable team working in your company so you can focus your effort on developing your company's brand and growth strategy."
6. Always look ahead for people who can bring value to your business
"Be constantly interviewing. Always be looking for people who you can bring onboard. If you don't have capital, actively recruit without hiring and when you close the deals that mean you can grow, you've already spoken to new talent and they're ready to rock and roll. If you do have capital, hire your people up front."
Braden Voigt will make an appearance at SMB Digital 20-21 October 2020. His presentation, Scaling a Small-to Medium-Business will include more about his rise to success and provide advice for small businesses who are struggling post-pandemic. He'll offer tips and inspiration for getting creative and growing.
.