10 Sep 2020
How Artificial Intelligence can make digital transactions safer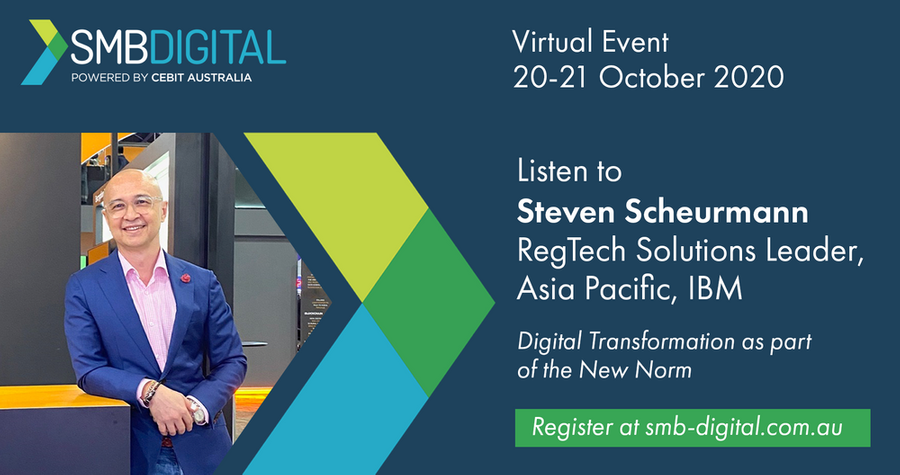 "Fighting cyber-crime by buying more and more traditional security products is counter-intuitive." – Steven Scheurmann
Ahead of his talk at SMB Digital, we spoke to Steven Scheurmann about preventing data breaches and identity theft without compromising the customer experience.
Scheurmann is an Australian financial technology sage based in Singapore whose many specialties include prevention of cyber-crime and real-time fraudulent transactions – not to mention addressing the challenges associated with anti-money-laundering, combating financing of terrorists and politically exposed persons.
Needless to say, he has plenty to offer regarding outsmarting those in the business of stealing money from unsuspecting citizens and companies.
"The problem with buying and investing in more standard security products to protect digital payments is it makes the customer experience very horrible," he says.
Scheurmann refers to the hoop-jumping customers endure; setting up PINs, navigating bank passwords, and other transaction authentication practices. Not only can they be laborious and confusing, from a business perspective they can result in delayed purchasing and worse; abandoned purchases.
The solution and the future, he believes, is in a combination of artificial intelligence (AI), machine learning and behavioural profiling.
This kind of approach to transactional security involves the bank being able to analyse, in real-time, the type of payment taking place, whether this is something this particular customer would buy, whether they have bought from this company before, and whether the time of the purchase is unusual. In fact, some technologies can even be designed to question the way a customer holds their phone or how they key stroke their keyboard.
"You will never be able to catch the smartest criminals with a traditional approach - there are so many transactions online. Even if you're a brilliant investigator, it's not easy to identify a pattern," says Scheurmann.
"Combining AI, machine learning and behavioural profiling is key because they can work together to interrogate and interpret a vast amount of data very quickly as opposed to individuals conducting investigations."
Customer onboarding is key
There are many ways that digital customer onboarding is more advantageous than signing up customers face to face, but it's important that banks and businesses alike capture the right kind of data from the word go.
Be mindful that you need to be able to confidently validate an identity and to be in a more diligent position to determine when something is not right.
Protect the bank, business and customer alike. Beyond shielding them from theft, AI can facilitate a more intelligent response to dubious behaviour on a transaction by transaction basis.
"It allows banks to put a hold on that transaction rather than shut down the entire card. In places where people live on a daily wage, their lives can be severely impacted by a blocked card, so singular transaction control is really powerful," says Scheurmann.
And finally, is too much security ever enough?
"The most cyber secure you can be is to go home, lock the door, turn off the lights and decide not to do business. Nothing is totally secure so it's about balancing your acceptable risk and what are you going to put in place to mitigate against that risk to ensure that you are not exposed."
You can experience the wit and wisdom of Steven Scheurmann during his talk at SMB Digital - Digital Transformation as part of the New Norm.